"Thank you so much for providing our movement with this powerful tool that will contribute to a better understanding of the approach worldwide." – Lynne Lawrence, Executive Director, Association Montessori Internationale, April 2019

"The film is a masterpiece in that it captures the natural characteristics of the child.flawlessly capturing the children working in a Montessori Children house. Wow. I have never seen a Montessori video so authentic." – David Khan, Executive Director of North American Montessori Teachers' Association
"A beautifully photographed documentary. By showing these little students working and playing together without adult interference, Mourot's sublime film is revelatory about the world of children" – Kevin Filipski, The Flip side
LET THE CHILD BE THE GUIDE
As a young father, watching his daughter go through her life experiences, film director Alexandre Mourot discovered the Montessori approach and decided to set his camera up in a children's house (3 to 6 years of age) in the oldest Montessori school in France. Alexandre was warmly welcomed in a surprisingly calm and peaceful environment, filled with flowers, fruits and Montessori materials. He met happy children, who were free to move about, working alone or in small groups. The teacher remained very discreet. Some children were reading, others were making bread, doing division, laughing or sleeping.
The children guided the film director throughout the whole school year, helping him to understand the magic of their autonomy and self-esteem – the seeds of a new society of peace and freedom, which Maria Montessori dedicated her life work to.
THE FILM ABROAD :
international versions and DVDs
The film was released in French theatres in autumn 2017 (70 000 spectators) and in German and Austrian theaters in summer 2018 (50 000 spectators). Thanks to Montessori associations, the film is available for screenings and on DVDs as of summer 2019 in the following languages: Greek, Portuguese, Spanish, Bulgarian, Czech, Latvian, Norwegian, Polish. For now, we are striving to find partnerships in others countries.
The movie has been released :
– in the USA and Canada on September 10th, 2019. Click here to watch or buy it on Itunes. If you wish to organize a screening, please check the dedicated page on this LINK.
– in Italy on October 14th, 2019. The premiere in Udine end of may has been a real success with 700 spectators. You can watch the Italian trailer on this LINK. As of early 2020, 20 000 spectators already enjoyed the movie in theaters.
– in Romania as of November 20th, 2019.
– Alexande Mourot was in Spain end of June 2019 to present the movie in Cordoba Malaga, and in Barcelona end of November 2019. You can watch the Spanish trailer on this LINK. And you can now buy the DVD from this page.
Stay tuned on the website and the international FB page !
TO ORGANIZE SCREENINGS
If you live anywhere in the world with people/community interested in the Montessori Pedagogy, do not hesitate to contact us to organize a screening near your home or school. It is really easy and free for you.
Please go to this link where we explain the procedure in Spanish.
And if you are in other areas, please go to that page where it is explained in English.
THE PROJECT
"Education should not limit itself to seeking new methods for a mostly arid transmission of knowledge: its aim must be to give the necessary aid to human development." Maria Montessori
We all dream of a bright future for our children: a fertile personal life and a harmonious social life. School partly nurtures these aspects. So, which pedagogy should we choose? I here invite you to discover Maria Montessori's method of education.
Based on her scientific observations, Maria Montessori discovered that by respecting a child's personality and by offering him an environment that meets his developmental needs, they could thrive and build a solid foundation for living the human adventure with joy. In 1907, she opened a nursery school in Rome where she developed a new method of education. Her pedagogy rapidly become well known and is still growing in the world today.
This documentary invites you to discover the main concepts of this pedagogy, in particular how they are implemented in the reality of the daily routine of a nursery class where the filming took place throughout the year 2015.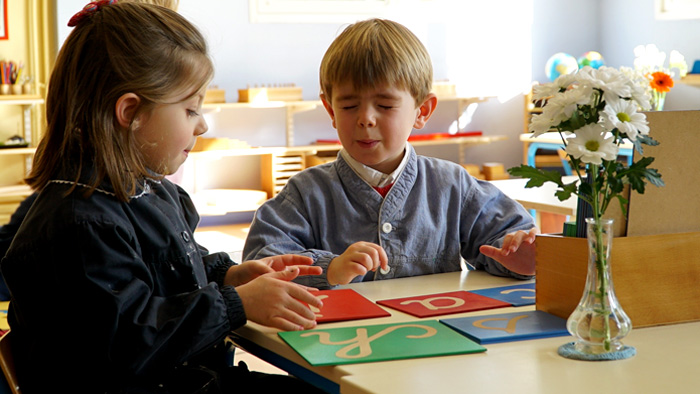 The programme includes: meeting the children, observing their free actions and discover how, over time, thanks to the trust given to them and to the attention given to their needs, they gain in independence, concentration, self-confidence, self-discipline, social openness… and how their enthusiasm to learn is stimulated.
Another concern of the film is to bring to light all the challenges that Christian Maréchal needs to overcome, how best to fulfill his role as an educator of 28 children from 3 to 6 years old. How does he go about creating and maintaining a peaceful environment which will enable each child to be happy, build his self-esteem and nourish his potential…?
Voice-off: thanks to unpublished archives found while working on this film, keys will be given to understand the Montessori values, how the pedagogy works and Maria Montessori herself. Recent scientific researches in neuroscience and psychology will be brought up to confirm the pedagogue's intuition.
If, like Maria Montessori, we think that "the child is the father of man", then allowing ourselves to be guided by the teacher full of love, enthusiasm, intelligence, is opening a path towards peace and the elevation of humanity.
HOW IT ALL STARTED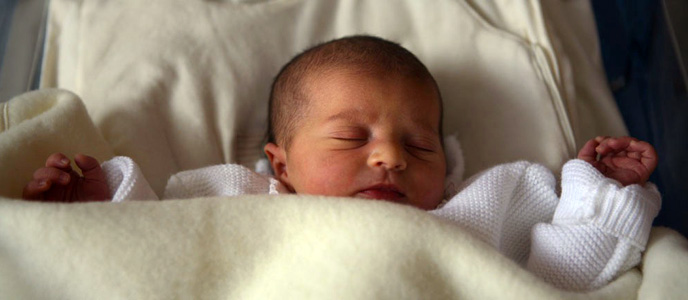 "I came across Montessori teaching a few years ago, during the time of my first daughter's birth, without really knowing what it was about. May 2014, I decided to buy a first book of Maria Montessori after reading an article about it. Captivated, I started to devour books… then to consider making a documentary film to explain this teaching. As a result, I carried out a few interviews with different people involved in the Montessori world in France. Their strong interest for this method of teaching and their love for children have encouraged me to make a film…
Beginning of the autumn term 2014, I then began an in-depth study, looked into archives, met numerous people and of course spent days of observation in classes all over France (22 in all). My passion for the subject did not stop to grow and I actively looked for a setting to produce my project. I eventually started my documentary in Christian Maréchal's class at Jeanne d'Arc school in Roubaix (France) February 2015. During summer 2015 I started the International Montessori teacher program at early childhood level (ages 3-6) in order to refine my knowledge.
My aims for this documentary are high : the best possible quality for the viewers to experience the class and meet the children in the best possible way and a large scale circulation, as well as on a global scale. Indeed, the scientific teaching of Maria Montessori is for me a great proposal for the future of our children. I am convinced that if we try to understand it, it will widen our perception of our children and thus allows us to be more accurate in our relationships with them."
Alexandre Mourot, director
FILM CREW
Alexandre Mourot – Film director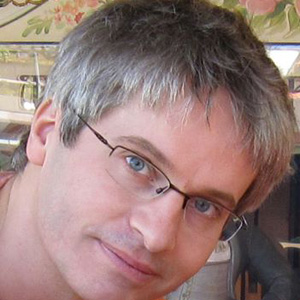 After finishing his engineering studies, Alexandre produced CD-Roms for famous French editors (GALLIMARD, FLAMMARION, LAROUSSE, ARTE Editions…) then launched some internet technology activities. This did not satisfy his need to create. He decided to follow a history of art course at La Sorbonne University, be trained in photography and eventually in documentary filmmaking at the Ateliers Varan. In 2009 his first documentary called "Poubelles et Sentiments" ("garbage and feelings") was released, dealing with the attachment we have with material things. The film was selected for screening by several festivals. Since 2014, he has dedicated himself fully to documentary making, with a passion for education. In the summer 2015, he started an international Montessori training for 3 to 6 year old children (with the AMI) to improve his knowledge of the Montessori educational methods, which was the subject of his second movie. En 2018, he obtained his AMI Montessori diploma. Since the release of his documentary "Let the child be the guide" in France in september 2017, with more than 70.000 spectators, his main activity consists on promoting the documentary around the world.
Catherine Mamecier – Chief editor
In 1990 Catherine started working for various Parisian productions, producing numerous magazine editings such as L'Oeil du Cyclone aired on Canal + channel and over 60 clips for artists such as Jean-Louis Aubert, Pascal Obispo, Assassin, Zazie, Jean-Jaques Goldmann, Jaques Dutronc, amongst others. Working for Parisian productions was Catherine's first job in 1990, for which she produced numerous magazine editings (such as L'Oeil du Cyclone on Canal + channelShe naturally looked towards a line of documentary editing work and has been working since 1997 for a regional TV channel (France 3 Loraine). To establish her knowledge, she went into a professional Master on production and documentary editing. "What attracted me first to Alexandre's project was its militant side, the will to promote Maria Montessori's project about children's education to build different future, and secondly the filming quality: the images are really beautiful and put the child right in the center of our reflection. With such materials, the story is full of promises from a technical point of view (80 hours of rushes) as well as from a narrative perspective."
The children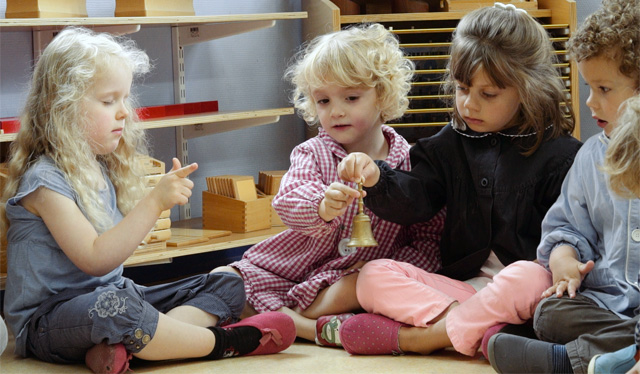 "Directing our action toward mankind means, first and foremost, doing so with regard to the child. The child, that 'forgotten citizen', must be appreciated in accordance with his true value. His rights as a human being who shapes all of mankind must become sacred, and the secret laws of his normal psychic development must light the way for civilisation." Maria Montessori 2014-2015: born in 2011: Marine, Victorien, Géraud, Félix, Noélie, Louis, Séraphine, Camille, Charlie ; born in 2010: Achille, Étienne, Gabriel, Léa, Nour, Gabin, Roxane, Valentine, Mathieu, Auguste ; born in 2009: Joseph, Garance, Bartimée, Juliette, Titouan, Jeanne, Olivier, Yanis, Sixtine.
2015-2016: born in 2012: Alphonse, Marin, Pierre, Alix, Adèle, Agathe, Antoine, Pierre, Charlotte, Robin ; born in 2011: Marine, Victorien, Géraud, Félix, Louis, Séraphine, Camille, Charlie ; born in 2010: Achille, Étienne, Gabriel, Léa, Nour, Gabin, Roxane, Valentine, Mathieu, Auguste.
Christian Maréchal – Montessori teacher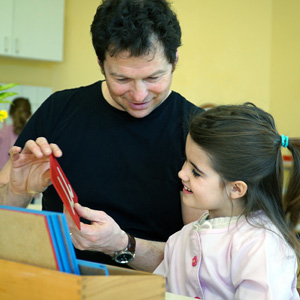 After studying robotics, Christian decided to change fields to his first aspirations: education. He agreed to replace a supply teacher in a primary school. Christian reflected on the pace of each child, especially when he discovers that some good pupils do not like going to school. He went back to studying to become a primary teacher and discovered Maria Montessori's pedagogy. For two years, he took a first training course for Montessori 3-6 year-olds, then Montessori 6-12 year-olds at the Montessori school of Roubaix (France) with the Dominican nuns. Some nuns had taken their training with Maria Montessori.
From 1992 to 1995, Christian worked in a Montessori school in a disadvantaged area in North of France.
In 1995 he entered the Montessori school of Roubaix and led the Montessori environment for the 6-9 years old.
In 2000 Christian took a training course for the Association Montessori Internationale (AMI) 3-6 Diploma at the Maria Montessori Institute in Paris.
Since 2001, he has been leading a Montessori environment for the 3-6 years-old in the Montessori school of Roubaix.
Since 2002, he has worked with the Maria Montessori Institute of Paris and Geneva for the AMI training and becomes in 2005 became a member of the jury for the completion of the AMI 3-6 Diploma.
In 2012 Christian enrolled in the AMI Training of Trainers Programme.
In 2015, he completed his Montessori diploma in London for the "catechesis of the Good Shepherd". The same year, he worked with Alexandre Mourot to shoot a documentary on the Montessori pedagogy.
CROWDFUNDING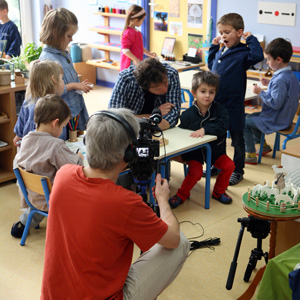 The crowdfunding campaign finished in October 2016. Thanks to 2255 contributors and more 140 000 euros, we have been able to release the film in French theatres in Automn 2017 and on international DVD afterwards.
SUPPORTS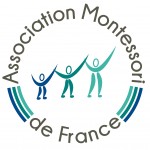 " An initiative (highly) supported by the AMF for the profoundness and accuracy of Alexandre Mourot's authentic approach, overlooking Montessori's pedagogy and the child."
The board of directors of the French Montessori Association (AMI Affiliated Society)
Do you have a question, a comment or need assistance?
Please send us your comments, questions or requirements about the trailer or the website via this page.