If you want to spread what Montessori pedagogy is to wannabe / parents of your school. Or promote your organization by showing what Montessori pedagogy is, organizing of a public screening of "Let the child be the guide" is a nice idea.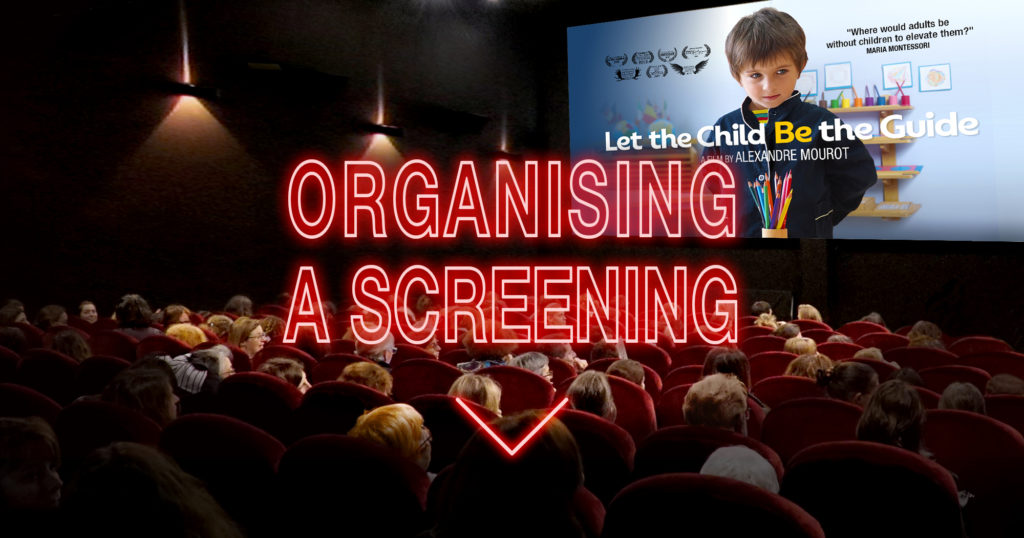 Note : The movie Let the child be the guide is available in the following languages : French (original version), Spanish (dubbed version), English (dubbed version), German (dubbed version), Italian (dubbed version), Russian (dubbed version) with subtitles : Greek, Norway, Czech, Portugal, Poland, Chinese (Taiwan), Korean, Romanian, Arabic.
Translations are under progress in : Swedish, Mongol, Turkish.
If you are a cinema operator, please click here.
ONLINE SCREENINGS
While we wait for the end of the COVID pandemic and the reopening of the theaters, we suggest that you organize online screenings with the parents or future parents of your school or any other audience you wish to invite.
The operation is as follows: You decide a day and a time to watch the film and you collect all the email addresses of future viewers. 1 hour before the beginning of the screening, you send an email to your audience, with a private link, which will grant access to the film at the scheduled start time. The film cannot be interrupted (except for a pause of a few minutes) and will therefore end 1h40 later.
We will take care of preparing the film for you as well as the page dedicated to your event. This event can be free for spectators or not. In all cases, the price for each spectator (or rather family) is 4 euros including tax with a minimum of 25 homes. This rate includes our costs for managing the event, creating the website, adapting the film to your event, the costs of storing and broadcasting the video and the copyright of the director and musician.
Contact us at: letthechildbetheguide@gmail.com
Or by phone: +33 7 78 32 00 93
*****
Whether you are an individual, a non-profit organization, a teacher, …if you wish to organize a public screening, we suggest you to proceed as follow :
Contact us to share your project and to be sure that we can organize a screening in your territory. We might be able to give you some helpful contacts with distribution or movie theaters networks, pre-written message to contact them , etc.
Gather a maximum of people
We recommend you to speak around you about this project and start contacting people that might be interested in watching the movie in a perimeter of few kilometers around the movie theater (Montessori schools, parenting associations, ….)
Several options are possible to organize a screening of the movie :

The movie has already been released in movie theaters in several countries, it is for general public and it has won awards in festivals. Therefore many cinemas accept to schedule a screening without needing to rent a room. Sometimes, to lower the "risks", you might just ask them to organize the screening on a day when spectators are less numerous (Monday or Tuesday nights, mid afternoon during the week, Saturday or Sunday mornings).
You can contact your local movie theater and invite them to schedule the movie. Independant movie theatres might be interested in.
To present the movie you have contents and trailers on the website www.montessorimovie.com and a French press kit . You can get more details from them on the requirements to screen a movie with operating visa (we can provide a « DCP » format).
You can share our email adress with the movie theaters if they have more detailed and technical questions on the screenings : letthechildbetheguide@gmail.com.
You can also choose a non commercial public screening, usually outside a cinema. You will then be the one directly registering the selling of the seats if you wish to go for a paid screening or to count the total of spectators if it's a free screening.
You will have to find the location for the screening (school, café, local party hall, …etc) and paid to us a 2,5 euros fee per spectators with a minimum amount guaranteed. We will help you all along the project and will propose you the adapted tool according equipments available in the room (DVD, blu-ray, DCP). For this choice, please get in touch with us directly by email on : letthechildbetheguide@gmail.com.

Propose a date for the screening and get in touch with us :
An end of week screening might be the right timing to make sure of the availibility of the public and choosing the dates with the operator of the local movie theater and our team. To contact us and share your project, please go to this page. Be careful on choosing the date of the event : it's a movie mostly towards parents so pick a day and time suitable so they can bring their kids along with them (end of afternoon, Saturday or Sunday mornings or afternoons).
Choose the speaker :
In order to have a real discussion with the public and therefore, we hope, changes on the Education topic, we highly recommend a debate after each screening. You can also interact with an educator or school director, a member of the national Montessori Association.
Communication on social networks and medias :
We will send you a recap message with all the necessary elements for communication : posters in various formats (A4, A3, A2, A0 in jpeg format or pdf) and the trailer. Most of these elements can be downloaded from below.
We leave it up to you to get in touch with local press & medias to share the news with your network. To support you on this part, we will publish the info on our websites and Facebook pages, and you will be invited to be co-organizer of the event.
For the use of extracts from the film, as part of a course with your students for example, you can play once a single extract of the film not exceeding 10% of its total duration, i.e. 10 minutes, and this without paying duties. You can do this by using the DVD that you have purchased individually.
To be integrated on a website :
Youtube : https://youtu.be/3M_YR0JY-BM
Vimeo : https://vimeo.com/242481960
To download to integrate on a Facebook page or event :
http://pc.cd/Hag
– Low Res : with footer
– A4 low res
– Facebook thumbnail
Screenshots from the movie
– Joseph and Achille playing puzzles cards
– Géraud and Séraphine
– Charlotte playing on bells
– Christian presents Etienne with rough letters
French version, To be downloaded here